Imagine that you are in a warm-weight room with the sound of iron-pumping and intensity surrounding. Sweat beads are beginning to accumulate on your brow line, muscles are hard at work tingling with energy, and your endorphins are at an all-time high.
Now imagine that you are a woman in a room filled mostly with men.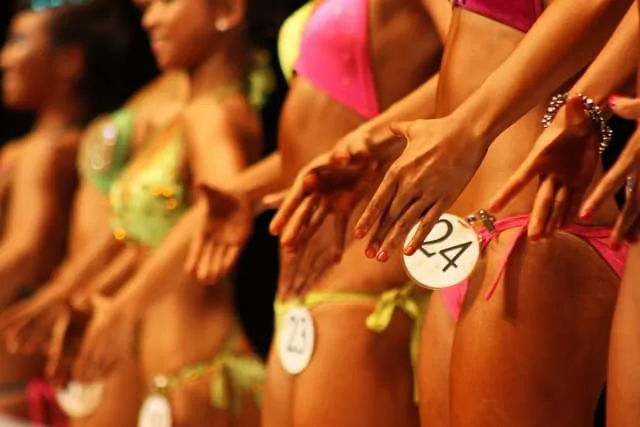 This is all part of a normal day for 18-year-old female fitness competitor and model Christina Rico and 24-year-old Celsius fitness ambassador, bikini competitor, and fitness instructor Angeles Burke.
"Being a female in the fitness world you tend to get judged more often because some people don't think that muscle is "feminine," but you inspire so many girls to work out and do it properly that it is totally worth it in the end," said Rico.
There has been an increase in female involvement in the fitness world since 2007. Data in the NSGA Sports Participation reports show that females represent over half of the participants in activities including yoga, aerobic exercising, exercise walking and working out at a club. But why are women flocking to the fitness industry? We spoke with Christina and Angeles about why they're working so hard to be fit.
Why Did You Become a Female Fitness Competitor?
"I really started focusing on my health and fitness two years ago when I started college, I needed something to keep me out of trouble away from drinking and get me on the right path," Rico said  "And once you start working out it is addictive!"
You can find Christina at the gym 5 days a week lifting. On Saturdays, Christina incorporates cardio into her workouts by going hiking on one of the local Phoenix Arizona mountains or doing something active.
Angeles Burke had a different experience that got her interested and fired up to become a part of the industry. "In December of 2010, I saw a picture in Oxygen magazine from the Winter Bikini Olympia. I saw these women that were sexy, feminine, and strong. They were beauty queens essentially, and I was inspired", said Angeles.
Is Just Hitting the Gym Enough?
Eating right and having a good fitness regimen is equally important when you are trying to get in shape. If you want to get in shape or are considering a career in this industry, Christina and Angeles both say you'll need to maintain a strict diet and eat 6 to 7 small meals per day.
"My meals will always include carbs, fats, and proteins," said Burke, "I am like that crazy lunatic eating out of zip lock bags all day."
According to Christina, chicken is a great healthy food when you're trying to get in shape. It is also important to cut out the artificial stuff. Avoid pastries and potato chips. You can allow yourself one "cheater day" a week to remain sane, but on the other 6 days stick to a healthy diet. Once you make the lifestyle change, eating right and feeling good becomes a habit, and it gets easier.
Being in the Fitness Industry is Not Easy
"If this life sounds glamorous and intriguing to you be aware that making a career out of fitness is difficult. Most IFC winners don't compete as a full-time job, and most of the money that you win from shows goes back into training," says Burke
Burke also says that most female fitness competitors have other full-time jobs and families. "You won't become a fitness icon like Jamie Eason or Jillian Michaels just by competing and having a great body, because there are so many other people who have that. You have to want it and love it."
So if you've got the desire, how can you achieve your dream? Christina and Angeles recommend making goals, writing them down, and sticking to them. "If you make a goal and don't write it down it is just a nice thought," said Rico. You also need to be dedicated to your goals and consistent; results are not just going to come overnight.
And most important…you need to work out. Here are some tips from the experts on how you can get in great shape.
5 Workout Tips from Christina and Angeles
1. Start with a warm-up
Warm-ups are important to get the blood circulating. Cristina usually starts her warm-up with a resistance band and light weights.
2. RIP IT
"I coined 'RIP IT' last year," said Angeles. RIP-IT stands for Restless, Increase the intensity, and Plan ahead. RIP-IT is a formula to get the most out of your workout.
So how can you 'RIP IT' in your workouts? Simple; go faster for shorter amounts of time, and make sure to go into the gym or fitness center with a plan for your daily workout and stick to it.
3. Hydrate
Staying hydrated is super important when you are working out. Make sure to bring water with you to the gym.
4. Listen to some great jams
Studies actually show that listening to fast-paced, pump-up songs can enhance your workouts by keeping you focused and entertained.
5. Avoid distractions
"When you are surrounded by fellow gym-goers it can be hard not to look around, talk to people, and be distracted. Use the gym time as your time and don't let the atmosphere interrupt your workout," said Rico.

Featured photo by: istolethetv