Everyone gets burned out with their workout routine at some point.
Your workout should be a time for you to let out aggression, work up a sweat, and have some fun!
Here are 10 super simple ways to make sure that your workout sessions never become dull.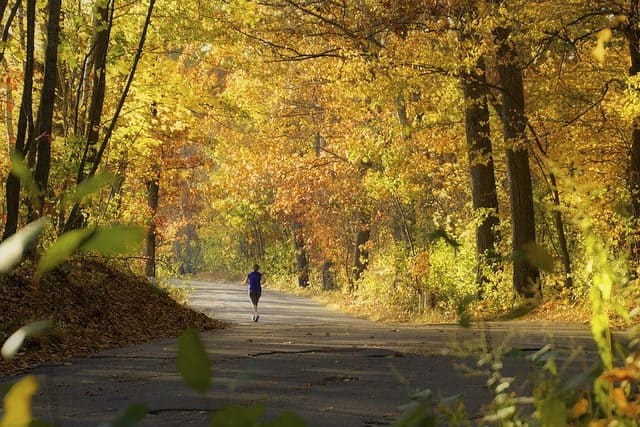 Easy Ways To Spice Up Your Exercise
1. Venture into the great outdoors
Take a hike, go for a run, or play tennis at your local park. Utilizing nature can really refresh your mind and give you a break from being inside all day.
Related: 5 Running Tips For Beginners
Another benefit is that public parks and trails are free. Breathing in the fresh air and discovering the natural beauty in your area is good for the mind and the bank!
2. Workout with a friend
Having a workout buddy really gets you motivated and can make time fly by. Start a conversation while you're both doing cardio, and the workout will be over before you know it.
It's also good to have someone there who can keep you on track. When either one of you feels like quitting or not putting your all into your workout, you can encourage each other.
Plus, there's also nothing wrong with a little healthy competition!
3. Treat yourself to some fresh new workout gear
Spicing up your routine is all about making the most of the little things, like being excited about a new piece of workout gear.
Related: 6 Ways To Spice Up Your Workout Routine This Year
It may sound silly, but it just might give you that tiny boost of excitement that you need to get out of bed and into the gym.
You also don't have to spend a ton of money to find new pieces. You can purchase small items like brightly colored head bands or shoe laces.
I've also been able to find high quality workout gear in inexpensive stores such as Target, T.J.Maxx, and Walmart.
4. Add new songs to your workout playlist
Listening to my workout playlist is one of my favorite parts of working out!
Music can really get you moving during a workout and help you push yourself further. Purchase new songs every couple of weeks to keep your workout playlist stimulating.
Putting in your headphones and blasting upbeat music allows you to block everything out and escape into your workout.
If you don't have time to keep with the latest hits or continually update your music library, download a free app on your phone, like Pandora.
Related: QUIZ: What Musician Should Be On Your Workout Playlist?
5. Take a class that is out of your comfort zone
Workout classes are a perfect way to try out something new, and there are so many different classes out there.
If you're a risk-taker, go for something like aerial yoga or a boot camp class. If you're less adventurous you could try kickboxing or pilates.
Don't worry about making a fool of yourself. You won't be the only person that is taking a risk on something new; bonding with the other people in the class in another added bonus. Even if you don't decide to go back you'll have a great story to tell your friends!
6. Try interval training
Interval training is a great way to keep cardio interesting. You rotate your cardio method every five, ten, or fifteen minutes. Once you have completed one cycle, you will repeat at least once.
Related: 4 Benefits Of Interval Training
This way, you really get your heart racing during your workout without getting bored.
7. Take the intensity of your workout up a level
Do an extra five minutes, run an extra mile, or try lifting an extra couple of pounds. Challenging yourself keeps you from getting complacent with your fitness routine.
Our bodies are surprisingly resilient, and it's amazing how far you can go when you push yourself. If you aren't feeling the burn, then it's time to take it up a level!
8. Set a goal for yourself 
Setting goals ensures that you are looking towards the future and the progress that you can achieve.
Related: 2014 Is Almost Over: How To Fulfill Your Goal Before It's Too Late
It doesn't have to be drastic or an immediate goal. Just make sure that it's something that you can actively work towards.
It could be as simple as working to touch your toes, or adding an extra mile to your run every couple of months.
9. Test out a session with a personal trainer
Personal trainers can really kick your workout up a notch and provide outside perspective on how you can tighten up your fitness practices.
Having a trainer at your side will also give you the assistance of someone who understands the human body and how much potential it holds. They know how to push you while still keeping you safe.
If you're worried about not liking it, then just go for a consultation. Don't sign any papers or contracts unless you know that this will be a good fit for you.
Related: How To Avoid 6 Common Fitness Mistakes
10. Utilize a section of your gym that you normally avoid
Sometimes trying out new equipment can be daunting, but it's never as bad as what you're imagining.
If you steer clear of the weight room because you don't know how to use the equipment then ask another member, or check the side of the machine for a visual aide.
Most workout equipment is pretty simple to use. Once you figure it out, you'll look like a pro!
The Takeaway
These are just a few simple ideas. You can try any number of ways to spice up your workout routine, but make sure that it is something that you enjoy. Working out doesn't have to be all pain no gain…you're allowed (and encouraged) to have fun!
************************
Lauren Pickens is a freelance writer and Inspiyr contributor. She holds Bachelor of Arts in Communications and enjoys writing about lifestyle and culture. To read more of her writing visit her website.
Photo by mgstanton