If you are anything like me, you've looked high and low for "the" secret to eating right and getting all your nutrition, and feeling good about the food you eat, both physically and emotionally. You have tried diet after diet in search of answers. For years.
And you are tired of fad diets, popular "magic pills" or miracle Hollywood secrets. You need a real answer, one that can sustain your lifestyle and your needs. You need a solution that is going to enhance your life, not drive you crazy with planning or make you worry over every bite. You need to be in charge of your eating—and (heaven forbid) enjoy it.
Enter green healthy smoothies!
Smoothies are the answer I have found to that long search and struggle with eating right and here's why.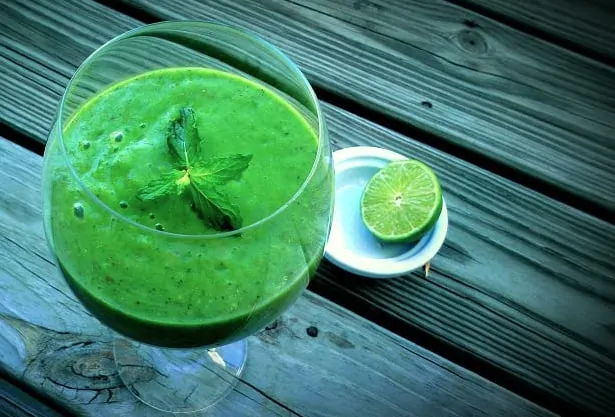 Why Should You Drink A Healthy Smoothie?
Healthy green smoothies are the simplest, most affordable, most delicious, and most efficient way to get all of your nutrition from food in its freshest and easily digestible form.
Related: Four of the World's Healthiest Foods
A healthy green smoothie can help you get most of your daily nutritional requirements fast, as well as in the form that your body can digest best.
When you chew your food, you expend energy doing so and you still do not get the food down to the form that is easily and quickly digestible by your body. This means that your digestive system still has to work hard to extract all the nutrition. On top of that, it will still not be able to absorb as much of the nutrition from chewed food as it would when you drink a healthy blended pureed smoothie.
That's why you should drink healthy smoothies regularly! But before you run over to your blender, there are a few things you should know about making them right.
Related: 5 Benefits of Juicing
Not All Smoothies Are Created Equal: How To Make A Healthy Smoothie!
What goes into your smoothie is very important. Are you making a healthy smoothie or just a shake?
Case in point: I went to a cafe today in London. The menu said "Smoothie: banana, coconut, fresh-squeezed orange juice." It's the closest I had come to find a smoothie during the trip, so I ordered it. What I got was not a smoothie. It was a watered-down drink, with ice cubes at the bottom, overly blended without any consistency…and worst of all, it tasted of artificial sweeteners.
That was not a smoothie, much less a healthy one!
Related: 10 Strategies for Healthy Eating & Fast Fat Loss Anywhere
A healthy smoothie should not have artificial sweeteners of any kind. It should have a balance of fruits and green vegetables as well as a source of protein such as nut milk, nut butter, or high-quality protein powder. (I prefer vegan raw protein powders.)
I make healthy smoothies using a variety of highly nutritious ingredients. Here are some of the most common ones:
fresh or frozen fruit (without any additives)
green leafy vegetables
superfoods such as goji berries
cacao powder
seeds such as hemp or chia
nut milk such as almond milk or coconut milk
fresh groundnut butter such as almond butter
Not every smoothie would have all of these ingredients, naturally. In general, I try to use anywhere from 5-8 ingredients per smoothie to keep them simple and quick. The more ingredients you add, the more complex the taste so you need to strike a good balance. And once you start making smoothies, you will get the hang of it.
Related: 5 Reasons to Buy Organic Food
There are different types of smoothies you'll want to make.
For example, a meal replacement smoothie would have anywhere from 500-800 calories. It would be highly filling and satisfying, and it would provide you a good balance of proteins and carbohydrates.
A hydrating detox smoothie, on the other hand, is nothing but fruits and vegetables with a base of filtered water. These smoothies are light on calories, high on antioxidants and enzymes, and perfect for replenishing your electrolytes after a workout.
Related: What You Should Eat to Fuel Your Workouts: Carbs, Fat, Protein
Luckily for you, I've included two delicious recipes for healthy smoothies: one meal-replacement smoothie, and one hydrating detox smoothie!
Healthy Smoothie Recipes
Here are two delicious recipes that will yield 2-2 ½ servings of smoothie. Share it with a loved one or keep the left-overs in the fridge in an air-tight mason jar for a snack later in the day. Do not store longer than 24 hours.
Banana Spinach Pear Delight – Hydrating Detox Smoothie

1 1/2 cup filtered water
2 frozen organic bananas
2 stalks of celery
2 cups spinach
2 small cucumbers
1 small apple, any kind
1 small pear
1/2 lemon
1 small pinch of ginger
Related: 6 Health Benefits of Kale
The Kale Avocado Dream – Meal Replacement Smoothie
1/2 medium frozen avocado
1 cup frozen pineapple
1 cup fresh kale
2 pitted dates
1 TBSP hemp seeds
1 1/2 cup unsweetened almond milk
Instructions:
The basic instructions here apply to both recipes. First, add and measure your base, whether it's water or nut milk, in the blender. Next, add the leafy vegetables and soft unfrozen fruit. Finally, add the hard frozen fruit as well as any nut butter. Start blending and make sure there's enough liquid for your blender to work its magic. Blend for 35-55 seconds with a strong blender, longer with a smaller machine, or to desired consistency.
Related: How to Organize Your Kitchen For Health in 7 Steps
The Takeaway
I want to leave you with one message: simplify your life by simplifying your eating. Choose habits that you are going to stick with. Simplicity is the best way to stay the course and sustain a healthy habit. Healthy smoothies are my habit for life, and they've revolutionized my health. What can they do for you?
******************
Farnoosh Brock is a multi-passionate entrepreneur, a published author, a speaker, and a business coach. She started her own media and publishing company, Prolific Living after a long corporate career. She shows professionals going through a "mid-career crisis" how to move up the corporate ladder or how to leave cubicle life to start their own businesses. She is also an expert on green juicing and smoothies as well as yoga and holistic healing.
Photo by digitalstyle_surat