I checked my watch: it was 8:35 pm, and dinner wasn't anywhere in sight. The Evite emphatically said promptly at 7:30, which became an inside joke since our hostess was notorious for running late.
I arrived at the dinner prepared. My friend did not.
As she quaffed a second glass of pinot noir, I watched her grab two mini quiche pastries ("One for my friend," she muttered) from the handsome server who carried a lavish tray around the room.
By the time dinner finally arrived (9:15!), my friend confessed she was buzzed, bloated, and in no mood to partake in polite conversation. "I just want to go home, take off my jeans, and watch A Christmas Story," she whispered as we wandered to the table.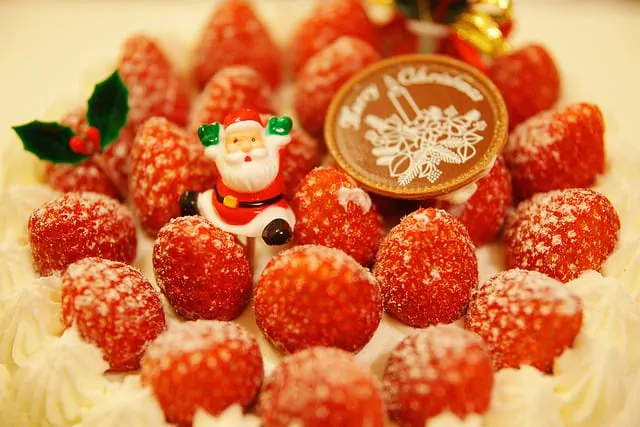 Downfalls to Eating Healthy During the Holidays
Most downfalls occur at holiday gatherings. Office parties, family get-togethers, and gift-exchange night with the girls often become the litmus test for fat loss: If you can survive December without dietary downfalls, you've overcome some serious hurdles to eating healthy during the holidays.
Temptation derails even the best of us, whether you guiltily succumb to your carb-pushing aunt's fruitcake or a "sample" of pumpkin eggnog sends you into a tipsy sugar coma.
Diverting guilty pleasures isn't easy, but a little preparation and pre-planning with these seven strategies can help you survive any soiree with your dietary dignity intact.
7 Tips for Eating Healthy During the Holidays
1. Eat before you go
My hostess's event wasn't an anomaly: Most parties don't start on time, leaving you ravished and grabbing the nearest pastry to stave off pre-dinner hunger. Couple hunger with alcohol and you've got a surefire formula for overeating and fat gain. You needn't eat a full meal, but eating before parties helps you keep tabs on friends rather than food.
I usually make a protein shake loaded with frozen raspberries, raw leafy greens, freshly ground flaxseed, and unsweetened coconut milk to curb my appetite.
Related: 8 Things Healthy People Do
2. Wear fitted clothing
Elastic waistbands have no business at holiday gatherings (or most social functions for that matter). If nothing else, they give you permission to indulge in second helpings of cranberry-walnut stuffing. Instead, wear your most fitted little black dress or the slimmest (and slimming) top and skinny jeans you can find.
Guys, you can do the same thing with a slim-fit shirt (no oversized sweaters!) and tailored pants. You'll think twice before devouring that gooey cinnamon-raisin bread.
3. Alcohol last
Indulging when you arrive makes you a more relaxed party guest, but like with my friend, alcohol can create a lapse of judgment where you absent-mindedly nibble on Brie and crackers while making small talk. Save the pinot noir till dessert and you'll reduce your risk of caloric overload and even becoming the party lush.
Whatever you do, steer clear of the sugary alcohol drinks, which are the worst for your liver and your waistline. Anything chocolate or served with an umbrella is a fat bomb ready to go off tomorrow morning on the scales.
Related: 7 Fat Loss Tips During the Holidays
4. Keep my 2:1 rule
Hangovers happen because, well, you drink too much, but also because you're dehydrated. For every glass of pinot noir or a shot of tequila, you drink at your best friend's cocktail party, have two glasses of filtered water to match. You'll meet your water quota and the water will put the brakes on the booze. You'll thank me in the morning.
Related: 5 Big Benefits of Drinking Water
5. Develop strategies when temptation strikes
You've reached an excruciating dilemma: Go for that second apple cinnamon pasty or respect yourself in the morning.
What should you do? Proceed to the bathroom or nearest private space immediately. You're going to need to have that talk with yourself in the mirror. Are you going to let a wimpy pastry be your undoing?
Another strategy is to keep pictures of the person you want to look like. Just position your head on a picture of your ideal body. Sounds silly, but it works. Time for some tough love. Pull those pictures out and talk your way through this temptation. (Privately, of course. Otherwise, people will wonder what you've been drinking.)
Speaking of tough love, there's nothing like a tell-it-like-it-is girlfriend to give you the oh no you don't! look when you're about ready to nosedive in the turtle cheesecake or smell the wonderful waft of cinnamon buns in the mall.
Related: 11 Ways to be Mentally Tough
6. Keep my 3-bite rule
A world-renowned pastry chef has catered your office party with his dark chocolate Petit fours. Have three polite bites – we're talking how you would eat it on live TV, not in your living room – of dessert and step away. You'll appease your sweet tooth without coming off as a wet blanket.
Just be warned that not every baked good your coworker brings in and other holiday indulgences constitute the three-bite rule. Choose judiciously.
7. Go for the healthy stuff first
Holidays are synonymous with buffets and endless potluck dinners. Just because you have an all-you-can-eat invitation doesn't mean you need to do so. One trip through the line and call it quits. Fill up on lean protein and leafy greens and you'll be less likely to crave the candied walnut sweet potato casserole.
Even with the best of intentions, slipping up at holiday parties can occur. I'm all about having multiple tactics to avert temptation. So follow these 7 tips and you'll be able to eat healthy during the holidays.
Your turn: What's your best holiday survival tactic to sail through parties without morning-after dietary regrets?
*******************
Celebrity nutrition and fitness expert JJ Virgin is the author of The New York Times Bestseller The Virgin Diet.
Featured image by orange_kuma